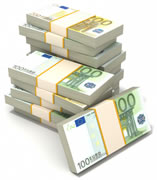 The PRO Tipsters will receive 50% of the revenue they generate
If you reach the "PRO Tipster" status in one (or more) sports you will gain 50% of the revenue you generate via subscriptions. Now you can tip in Football, Tennis, Basketall, Baseball, Handball, Rugby, American Football, Hockey and Volleyball. The PRO concept is applicable to every sport.
Tipsters Levels: The Rating
Who is a better Tipster? One with a 25% yield in 120 picks or another one with a 15% yield in 400 picks? In order to compare Tipsters we have developed an algorithm that provides a Rating (between 0 and 5) to every Tipster. According to the Rating we can differentiate the following levels: Trainee, Rookie, Promise, Coach, Master, Grandmaster and PRO.
| | | | |
| --- | --- | --- | --- |
| | Trainee Statistics show losses or profits with < 100 picks | | Rookie Rating between 0 and 1.0. |
| | Promise Rating between 1.0 and 2.0. |   | Coach Rating between 2.0 and 3.0. |
| | Master Rating from 3.0 to 3.50. Grandmaster Rating from 3.50 to 4.25 |   | PRO Rating between 4.25 and 5.0, a minimum of 500 picks made and a 4.5% minimum Yield LS. |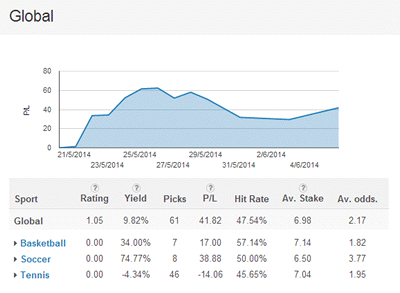 Tipster personal page
You will be able to have your public Tipster personal page, where you will see your charts and statistics. If you are a Tipster and you already have a blog or website you can also submit your picks in Pyckio. But only your Pyckio picks are computed. We don't maintain the betting records you can have in other sites.
Submit your picks
Submit your picks and add your explanation (optional). Picks are solved automatically, what guarantees that Tipsters' statistics are truthfull. Therefore, TIpsters don't have to solve their picks manually. We use real time (or with some seconds delay) Pinnacle Sports odds.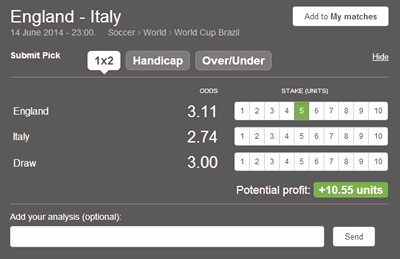 Follow other Tipsters
You can follow other Tipsters' picks in 2 ways: 1) In your personal Timeline you will see the picks and comments of those Tipsters you follow 2) For every match there will be one page (The Match timeline) where you will see all picks and analyses made by Pyckio Tipsters. It's the equivalent to the #hastag screen in Twitter.
Contests
We will organize puntcual contests where the best Tipsters in any determined competition (eg. Brazil World Cup) will win great prizes. These "contest" picks are different from the standard picks and do not compute to your general statistics as a Tipster.